Menjamurnya layanan hosting murah Indonesia memberikan banyak manfaat untuk aktivitas digital Anda, terlebih mereka yang memiliki bisnis online sendiri. Namun, Anda dituntut untuk selalu bijak saat mengakses server hosting agar terhindar dari berbagai ancaman yang salah satunya dapat masuk melalui akses Wi-Fi publik. Kali ini CAN Creative berbagi tips untuk Anda agar lebih aman saat mengakses internet melalui Wi-Fi publik. Yuk simak baik-baik ya agar ponsel maupun laptop kesayangan Anda tetap terjaga keamanannya.
1. Tingkatkan Keamanan Perangkat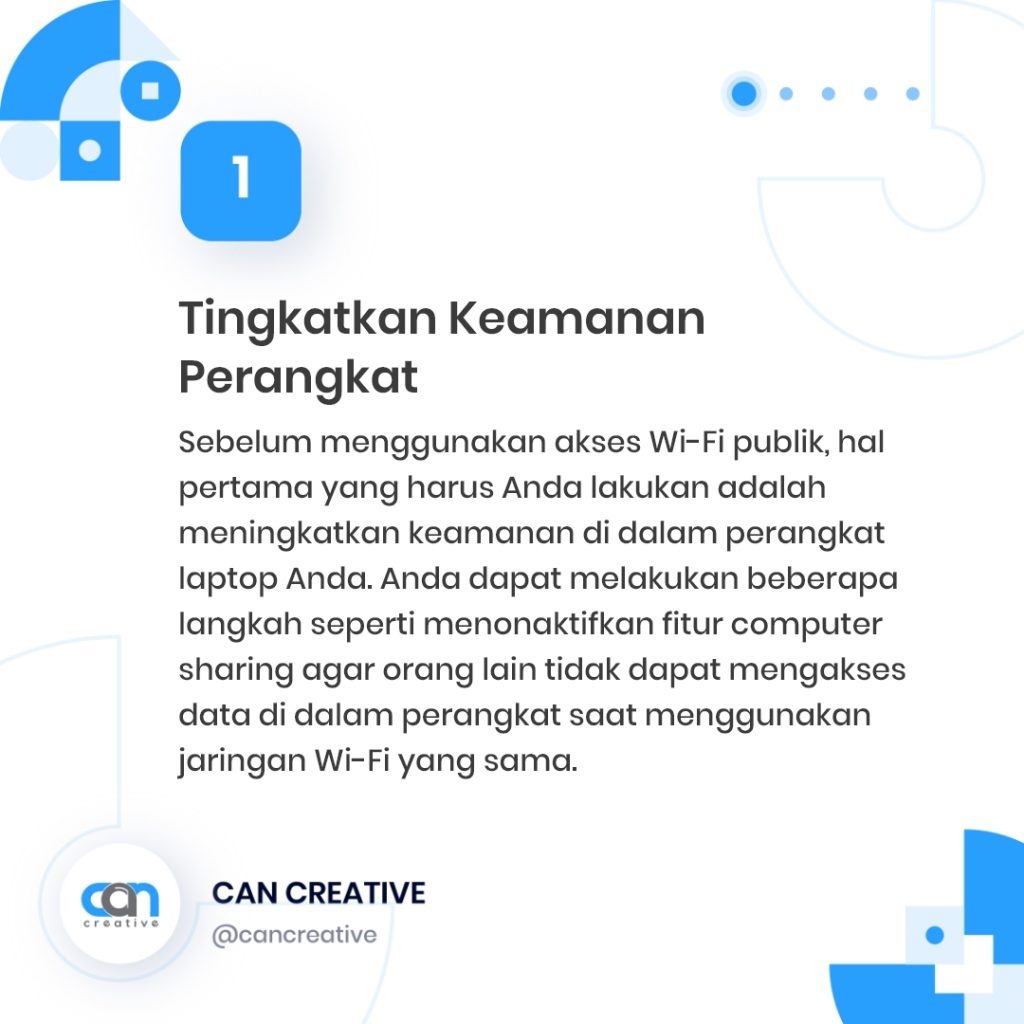 Sebelum menggunakan akses Wi-Fi publik, hal pertama yang harus Anda lakukan adalah meningkatkan keamanan di dalam perangkat laptop Anda. Anda dapat melakukan beberapa langkah seperti menonaktifkan fitur computer sharing agar orang lain tidak dapat mengakses data di dalam perangkat saat menggunakan jaringan Wi-Fi yang sama. Bagi Anda pengguna perangkat yang dijalankan pada OS Windows 8, Anda dapat masuk ke menu control panel, kemudian klik network and Intenet. Setelah itu, buka pilihan choose homegroup and sharing option untuk mematikan fitur sharing. Sementara Anda pengguna Mac OS X, Anda dapat masuk ke menu system preferences, pilih sharing dan hapus semua centang yang ada di dalamnya. Instal aplikasi anti-virus terbaik pada gadget Anda dan update secara berkala. Lakukan juga full scanning secara berkala pada sistem Anda agar keamanan data-data anda selalu terjamin.
2. Pergunakan Jaringan yang Dikenal Secara Bijak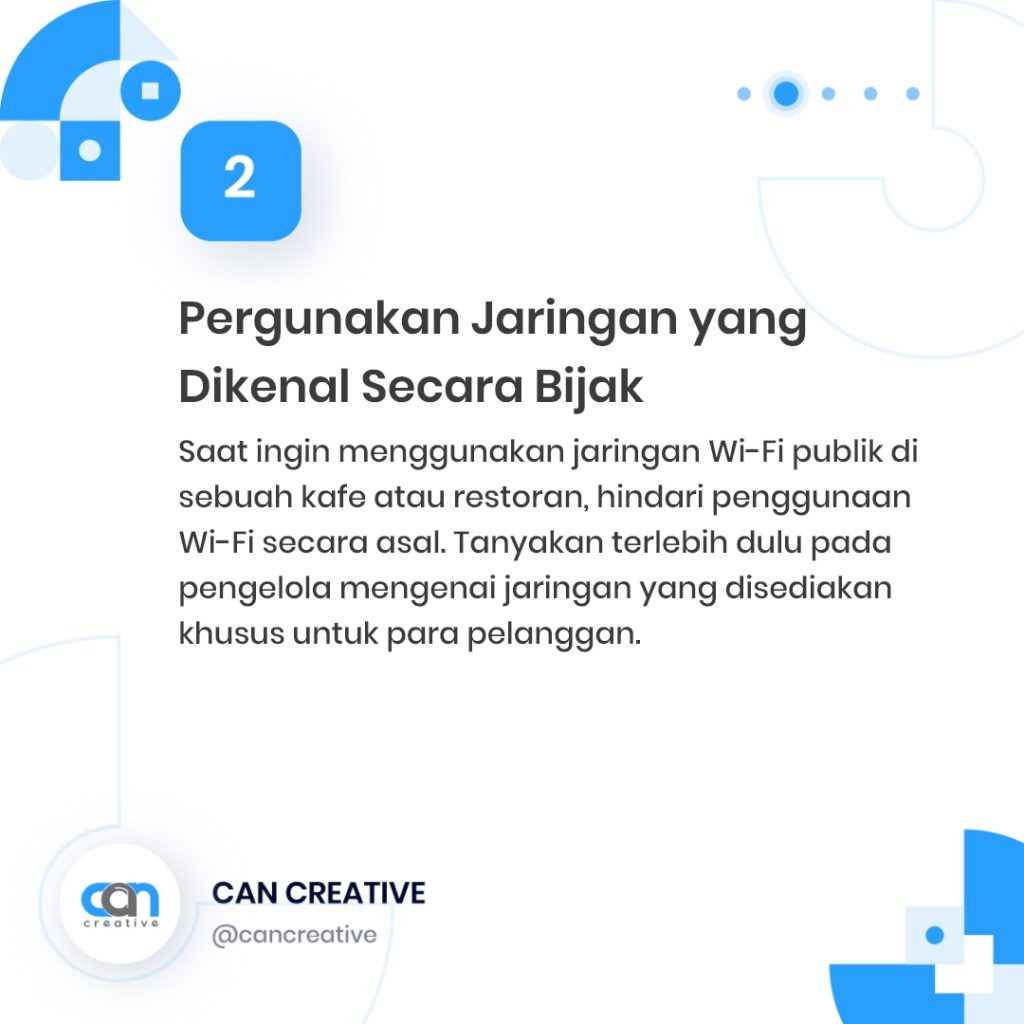 Saat ingin menggunakan jaringan Wi-Fi publik di sebuah kafe atau restoran, hindari penggunaan Wi-Fi secara asal. Tanyakan terlebih dulu pada pengelola mengenai jaringan yang disediakan khusus untuk para pelanggan. Dengan menggunakan akses Wi-Fi yang jelas, Anda dapat menghindari jebakan Wi-Fi yang menggunakan nama yang mirip, sehingga menghindari ancaman yang akan menyerang perangkat Anda. Jangan biarkan gadget Anda otomatis terhubung dengan hotspot terbuka yang ada di sekitar Anda, walaupun itu adalah tempat nongkrong yang familiar bagi Anda. Biasakan untuk melakukan hal tersebut dengan cara memilih forget this network pada settings Wi-Fi agar Anda tidak otomatis login kembali di sana. Hindari juga melakukan online banking atau membuat transaksi di hotspot publik. Tunda hal tersebut di jaringan yang lebih aman seperti di kantor atau rumah, di mana hotspot-nya private dan terkunci.
3. Gunakan HTTPS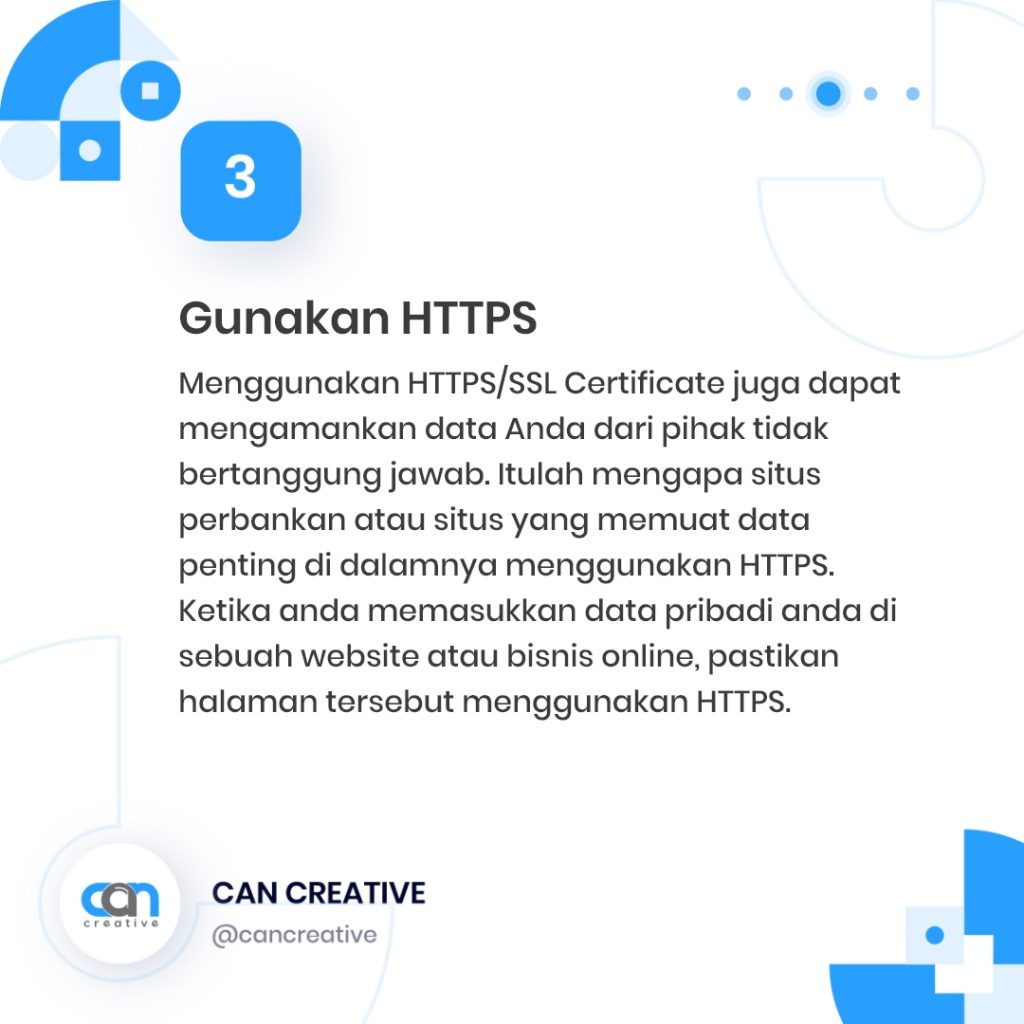 Menggunakan HTTPS/SSL Certificate juga dapat mengamankan data Anda dari pihak tidak bertanggung jawab. Itulah mengapa situs perbankan atau situs yang memuat data penting di dalamnya menggunakan HTTPS. Ketika anda memasukkan data pribadi anda di sebuah website atau bisnis online, pastikan halaman tersebut menggunakan HTTPS. Ini ditandai dengan gembok berwarna hijau di awal URL-nya. Anda dapat juga memasang add-on pada browser anda yang nantinya akan bekerja untuk mengenkripsi data Anda.
4. Aktifkan Firewall Anda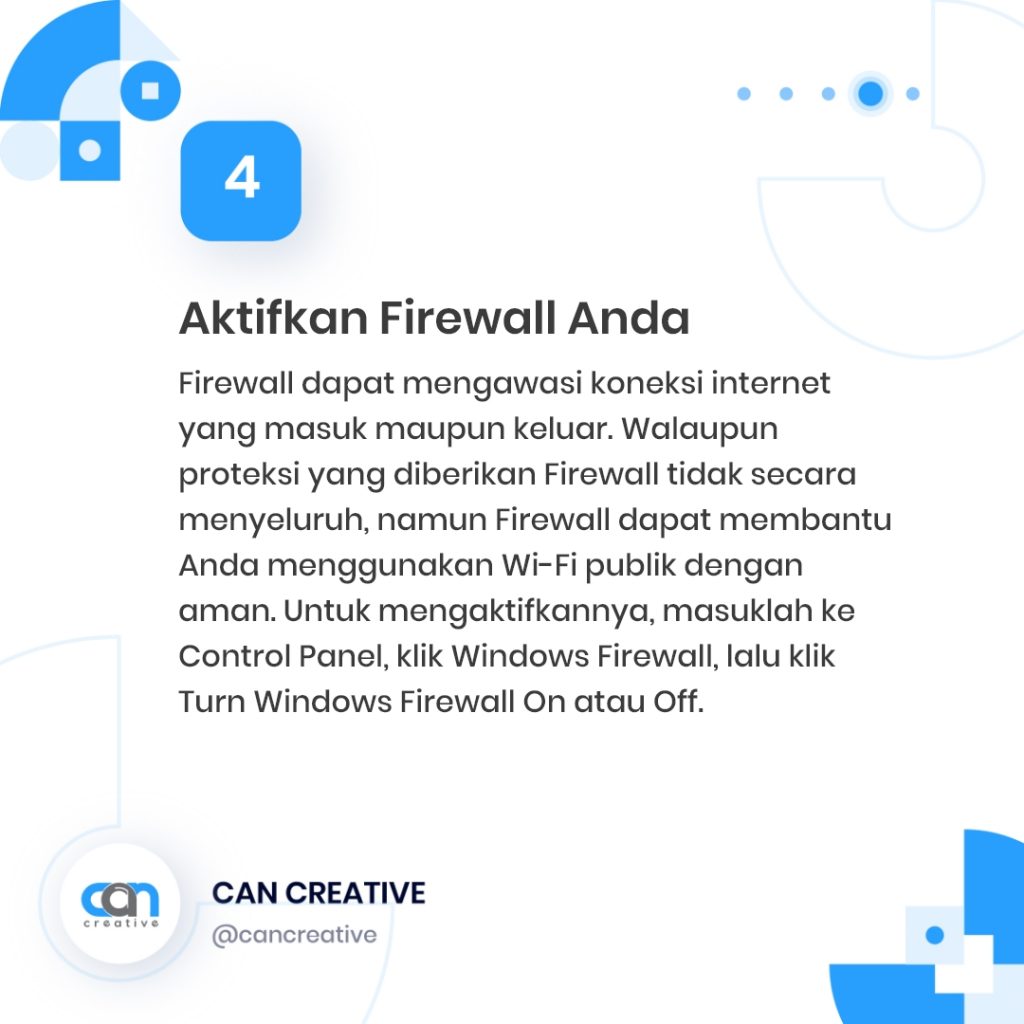 Firewall dapat mengawasi koneksi internet yang masuk maupun keluar. Walaupun proteksi yang diberikan Firewall tidak secara menyeluruh, namun Firewall dapat membantu Anda menggunakan Wi-Fi publik dengan aman. Untuk mengaktifkannya, masuklah ke Control Panel, klik Windows Firewall, lalu klik Turn Windows Firewall On atau Off. Selanjutnya, lakukan verifikasi bahwa Windows Firewall aktif dengan memasukkan kata sandi dari administrator Anda.
5. Ubah Koneksi dengan VPN (Virtual Private Network)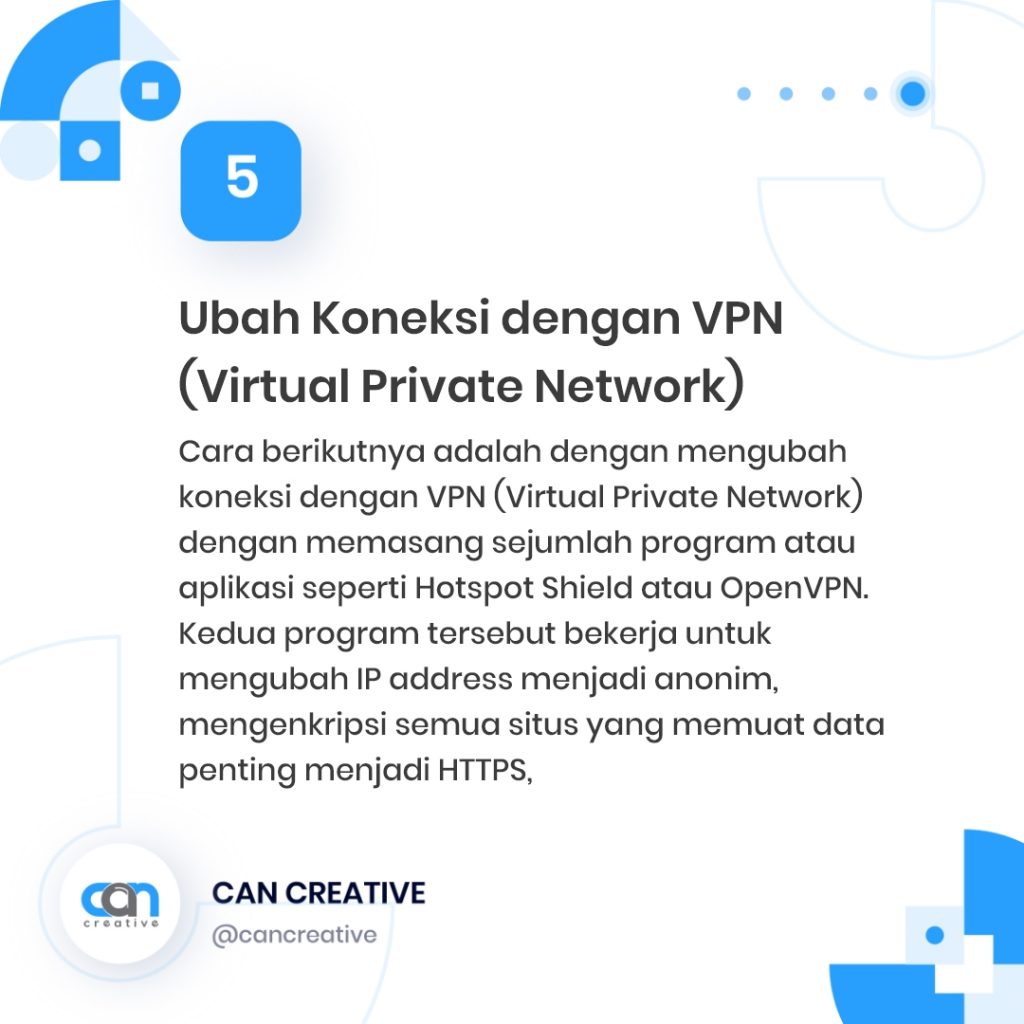 Cara berikutnya adalah dengan mengubah koneksi dengan VPN (Virtual Private Network) dengan memasang sejumlah program atau aplikasi seperti Hotspot Shield atau OpenVPN. Kedua program tersebut bekerja untuk mengubah IP address menjadi anonim, mengenkripsi semua situs yang memuat data penting menjadi HTTPS, memungkinkan Anda dapat mengakses situs terblokir dengan aman, melindungi perangkat dari malware, phishing, spam, dan situs berbahaya lainnya, serta mengaktifkan keamanan Wi-Fi guna mencegah hacker mencuri informasi pribadi Anda.
Cukup mudah bukan langkah yang harus Anda lakukan untuk menggunakan jaringan Wi-Fi publik dengan aman? Selain dapat mengamankan data yang tersimpan ke dalam perangkat, langkah tersebut dapat mencegah berbagai virus yang akan masuk ke dalam website saat memasukkan file dan data melalui server. simak tips dan trik lainnya dari CAN Creative ya. Caranya mudah. Ikuti kami di instagram @cancreative, facebook CAN Creative atau website kami di can.co.id. Jangan lupa untuk share info ini ke orang-orang terdekat Anda ya. Bukankah berbagi itu mudah dan menyenangkan ? yuk terus belajar bersama CAN Creative.